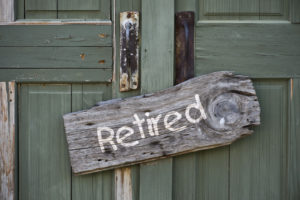 Working full time-and-a-half at a company for years was fun, exciting and financially rewarding. I know that isn't true for everyone because some jobs are none of those things, and I assure you that not all of my jobs were that great either. What's your situation around work? Has it become an invisible, engrained habit like it did for me? Have you thought about retirement yet? Remember that there is much more to retirement than the financial side of things.
Now that I've stepped away from the daily grind, I have learned that not going to work every day is not a walk in the park. Some people sleep late, watch tv or read all day and go to bed early. That's not how I imagined it retirement would be! I imagined finally having more free time to do creative things as a reward for all those years of working. I seriously need something to do, create, improve or learn. Endless days filled with nothing productive would lead to a serious bout of depression for me, not to mention putting my physical health on a downhill slide into the grave. Yuck!
Retirement Morning Routine
After leaving corporate America, the first thing I put into place was a morning routine of things I always wanted to do "if I had enough time." Do you have things you say that about? I sure did, and the list was quite long! In fact, the first month it took me all morning to get everything in. These days, I've narrowed it down quite a bit – I can get it all done in about an hour and a half now, though I choose not to rush unless my schedule requires it. Here's a shot of my tracking document and you can read more about my morning routine here.
Several of the new tweaks in my routine came from reading Hal Elrod's book The Miracle Morning for Entrepreneurs.* It was recommended to me by several people that I admire and it's a fairly short book. There are other versions if being an entrepreneur isn't on your list of things to be! I highly recommend this for everyone, whether you are working full time, part time or planning for an upcoming shift in your current work habit. It will help you put your own morning routine together.
Contemplation (Homework)
What is your morning routine? Write it down and look it over – does it make you breathe a sigh of relief? Are you glad it's in place and does it set you up for a wonderful day in a fantastic life? Don't judge or criticize, just observe. If it's not quite what you had hoped, tweak one tiny thing. Just one. Don't go overboard or you risk becoming overwhelmed and drop the whole opportunity to make something better. A little bit better is all it takes. Please share in the comments if you are happy with your routine or what itty bitty tweak you're making!
———————
*I'm experimenting with affiliate links, which means that if you click the link and buy an item I recommend, the company will send me a tiny little bit of their profit, at no cost to you. I will only recommend things I have tried and enjoyed.